Men's Hike Medium Crew Socks in Grey
Smartwool was created with the belief that time outside is valuable, restorative, and essential for everyone.
When the company was founded back in 1994, the founders simply wanted to be able to ski longer without getting cold toes.
That's when they discovered the benefits of Merino wool as a performance fabric. It was soft (softer than any wool they had ever felt), moisture-wicking, thermoregulating (warm when it's cold, and cool when it's warm), sustainable, and odor-neutralizing—helping to keep feet dry, comfortable, and warm for longer than the synthetic socks they were wearing at the time.
Smartwool was the first outdoor company to make performance Merino wool ski socks—revolutionizing the category and forever changing the way outdoor enthusiasts viewed their feet.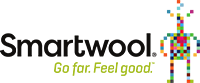 Smartwool's all-purpose sock was designed for rugged day hikes or moderate backpacking. An arch brace holds the sock in place and adds additional support. A flat-knit toe seam keeps you comfortable.
WOW™ technology in reinforced sole for maximum comfort and durability
3x1 ribbed cuff
Sizing clearly indicated on the sock
Flat knit toe seam
Elasticized arch brace
Made in USA of Imported Yarn: 66% Merino Wool, 33% Nylon, 1% Elastane
SKU: SW0SW130043