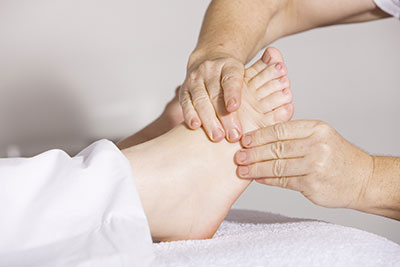 Seven Steps to Healthy Feet
When you're on-the-go the last thing you want to worry about is sore or cracked feet. Follow these simple steps to keep the 'dogs from barking.
Apple Cider Vinegar foot soak: There are many benefits to soaking your feet in a soothing mixture of apple cider vinegar and warm water. Pro tip: adding Epsom salt or Listerine to the mixture can kill bacteria and soften skin.
Use a pumice stone to remove calluses and soften feet.
Massage foot oil onto feet for a few minutes before washing and drying them.
Apply foot cream before putting on socks to sleep in every night. (Expert tip: Use fuzzy socks to help lock in the moisture)
Stretch your feet through a tennis ball massage. Foot stretches and massage on a daily or weekly basis will help you avoid foot pain and prevent injuries. To properly practice tennis ball massaging, stand while holding onto a wall for balance. Place one foot on the ball while rolling it along the arch, sole, toes and heal using enough pressure to experience a pleasant massage. Repeat on the other foot after about a minute.
Stretch your toes. Expand the toes on one foot as far away as possible without causing pain. Insert a finger between each toe and hold for approximately 10 seconds. Then switch feet.
Purchase properly fitting shoes. Not only do your shoes protect your feet, but they cushion your body weight and provide comfort. So how do you find that perfect fit?
Have your feet measured: Weight gain or loss, as well as pregnancy, can cause foot growth and change. Don't rely on the size you have had forever when purchasing a new pair of shoes. Most people's feet are slightly different sizes so measure both feet at the end of the day to ensure best results.
If a shoe is your right size but still is not quite comfortable, it may not be the right shape for your foot. Having a higher or lower arch could affect your comfort.
When you stand, there should be a ½" space between your longest toe (usually the first or second toe) and the tip of the shoe. Don't expect the shoe to stretch over-time, buy the comfortable size every time.
Lastly, think about your shoe usage and activity– running shoes are designed differently than walking shoes. Ask a sales associate for the shoe that best fits your lifestyle.