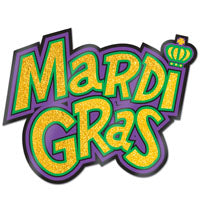 Mini King Cakes for the Win
I attempted something risky last night. Stepped outside of my comfort zone, if you will.
I COOKED.
Well, technically, I baked. But, still.
Many who know me are aware of the fact that cooking is not my forte. I frequently skip over steps in the simplest of recipes because I get too excited about the end product and don't thoroughly read the directions. If I'm being honest, I actually missed a step in my first attempt at the recipe I'm about to share with you all. Luckily, I'm an expert problem-solver and found a way to improvise (and it still tasted AWESOME).
Because it's Fat Tuesday, my inner Betty Crocker stepped out and decided to Pinterest fun, Mardis Gras related recipes. I became instantly intrigued by a recipe for "mini king cakes" – mostly because it involved the least amount of ingredients and steps. I then found ANOTHER recipe for mini king cakes that involved CINNAMON ROLLS. At that moment, I was hit by a stroke of genius.
I decided to the elements I liked best about each recipe and combine them into one, inspirational dessert. I took safety precautions during the taste-testing portion of my experiment…I had my boyfriend try one. He said it tasted "damn good", and he wouldn't lie to me. (Seriously, he would be the first to tell me if it sucked, I promise).
I like this dessert so much, I need to share it with all of you. The recipe is easy, inexpensive and took me all of 45 minutes to complete from start to finish, including pre-heating the oven! This is a great recipe for a fun breakfast or a tasty dessert.
Because this recipe is technically my own, I took the liberty of naming it. May this be the fattest Tuesday yet.
PURPLEY/GREEN/GOLD CINNAMON THINGS
(aka MINI KING CAKES)
RECIPE
Ingredients:
– 1 (8oz) package cream cheese, softened
– 1 cup powdered sugar
– 1 tsp lemon juice (or 1/3 of a fresh lemon, squeezed)
– 2 packages cinnamon rolls
– Sprinkles (I chose yellow and green in honor of Mardis Gras)
– 1 container frosting (15.6 oz is the size I chose, and I had some leftover)
Directions:
1. Preheat oven to 400 degrees Fahrenheit. Spray baking sheet/pan with non-stick cooking spray.
2. Blend (or mix well with a spoon) cream cheese, powdered sugar & lemon juice.
3. Remove cinnamon rolls from container. Use fingers to pinch and form a hole in the center of each cinnamon roll.
4. Put cream cheese/powdered sugar/lemon juice mixture in the center of each cinnamon roll.
5. Bake 13-15 minutes or until golden brown.
6. Take out of oven and let cinnamon rolls cool for 5 minutes.
7. Decorate with frosting & sprinkles of your choice.
You may be wondering how I could've possibly messed up the first batch I made. Here's how: I forgot to put the cream cheese/powdered sugar/lemon blend into the center of the cinnamon rolls before baking them. However, it simply prompted me to find another way to put these little wonders together! After the cinnamon rolls finished baking, I cut a circular piece of dough out of the center, placed the cream cheese mixture inside, put back the piece of dough I cut out and frosted over it to secure. Voila! Fixed. However, since the cream cheese mixture wasn't baked, I refrigerated this batch. If your dessert sits over night, I suggest heating your purpley/green/gold cinnamon things up in the microwave for 10 seconds to make them deliciously melty and warm. Yes, melty. MINI KING CAKES FOR THE WIN.
Disclaimer: I've never actually made a king cake before, so I couldn't tell you how closely my recipe or the ingredients in it mirror one. But the colors I decorated with are Mardis Gras colors. So I decided that counts.
The post Mini King Cakes for the Win appeared first on Mar-Lou Shoes.