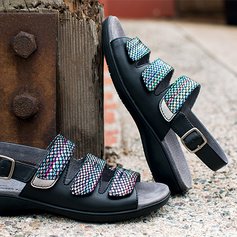 Kendra: Our New Super-Fitter
Take Comfort in Kendra
Let's face it: finding adjustable, comfortable footwear can be a struggle. Fit qualities are a large part of what our buyers at Mar-Lou Shoes look at when making footwear decisions for upcoming seasons. There are numerous options when it comes to finding shoes with adjustability. The problem with the options sometimes is they are, for lack of a better word, boring. Thankfully, comfort footwear with fun, fashion appeal is no longer a thing of the past.
One of our brand new styles with a little flair this spring/summer season is the Kendra sandal by Trotters. Kendra is made in 4 colors: staple black and tan leathers, as well as two additional multi-colored knit patterns that add a fun edge to the classic silhouette.
Kendra's patterns are fantastic, but the features are what make this sandal a super-fitter. Three straps across the instep are velcro-adjustable, and the strap around the back of the ankle features a buckle closure with elastic goring for stretch. The combination of these four straps make Kendra customizable from heel to toe (literally). In addition to incredible fit features, Kendra's footbed is a dream. Contoured and cushioned with EVA material, the footbed is comfy without the so-cushioned-I'm-sinking-into-this-shoe feeling; Kendra is a fantastic combination of firm and soft support.   The heel cup cradles your foot, reducing the chance of uncomfortable spilling over the edge.
You may be wondering what the EVA portion from the above description means.  EVA stands for "Ethylene Vinyl Acetate". In other words, EVA is a synthetic, dense foam that provides rebound as it supports your foot. This means your feet experience shock absorption while standing on an EVA footbed. Shock absorption helps protect your joints (ankles, knees, hips) from taking on the pressure of foot-to-ground impact with each step.
Check out the video below to see Kendra in action. Or come try on a pair for yourself!
The post Kendra: Our New Super-Fitter appeared first on Mar-Lou Shoes.