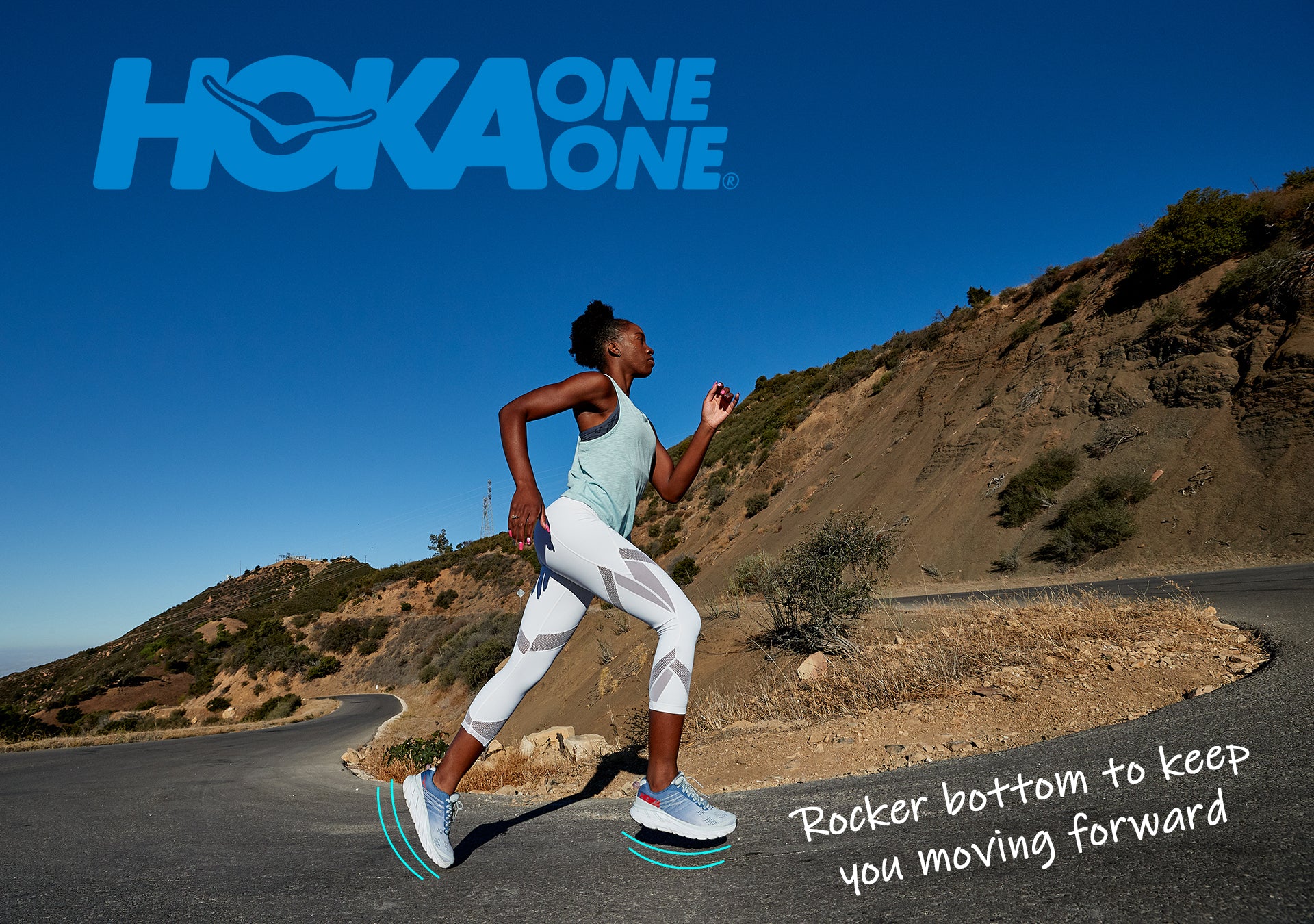 Have your heard of HOKA ONE ONE?
HOKA ONE ONE (pronounced, "Ho-Kah Own-ay Own-ay") is a phrase in the indigenous New Zealand people's Maori language. "HOKA" is a verb meaning to soar or to fly while "ONE" (Own-ay) is a noun meaning Earth-like. So, when you put the two terms together, you get an interesting phrase that loosely denotes, "flying across the land" or "soaring across the earth." Let me tell you, these shoes live up to their name! You absolutely must try on a HOKA ONE ONE in order to experience what it does for your feet! Let me give you a few reasons you should try on a pair today!
Cushioned Midsole
[marshmallow-soft]
The super-light cushioned midsole offers shock absorption, comfort and support. Perfect for runners, walkers and anyone who's on their feet for long periods of time. No wonder marshmallows are a big part of their marketing!
META-ROCKER
[wheels for forward motion]
Meta-Rocker or "wheels for your feet" drives the runner/walker forward and reduces the differential in height between the heel and toe. This feature is also great for those with toe stiffness or arthritis in the joints as it helps you propel forward with fewer bends.
Active Foot Frame
[the bucket seat]
The Active Foot Frame beds the heel and foot deeply into the midsole and offers guidance without "posts" or other constrictions in the same way a sports car's bucket seat holds you in position on tight turns. These are great for relieving pain caused by plantar fasciitis and just making your feet feel great!
J-FRAME
[stability with freedom]
Dynamic Stability shoes feature the HOKA J-Frame™. The J-Frame™ adds support by using a firmer density foam on the medial side (for you non-shoe tech-savvy friends that means inside) and on the heel's lateral side (outside). It delivers support while guiding your foot without the use of heavy, rigid materials. This is just a lot of fancy talk for lots of technology, loads of innovation, and tons of forward-thinking! (Pun intended!) 
After reading all this how could you not want to try on a pair? What are you waiting for? Stop into Mar-Lou Shoes today for a professional fitting by our trained sales staff. See you soon!