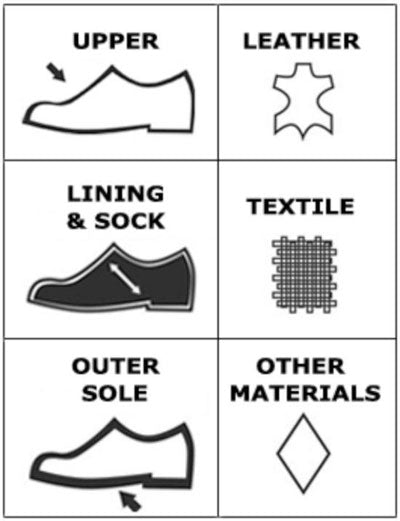 Do you know what your shoe is made of?
Shoe Labels and how to decipher them:
Have you ever stared at that funny little sticker inside, or on the bottom of your new shoe and wondered what it meant? Well, wonder no more because this week at Mar-Lou we have whipped up a handy resource guide, so you never have to wonder what you are buying again!
Essentially these stickers are a guide to the material used in your new shoe!
The left column describes the three parts of your shoe: the upper part, lining/sock part, and the outer part.
The upper part shows you the material of the most visible part of the shoe–at the front and top.
The lining and sock describe the material of the inside of the shoe, giving your feet the most comfort and support.
Lastly, the outer sole of the shoe, as represented in image three, describes the material used on the bottom of the shoe, giving your feet the most protection from the elements.
The right column gives you an explanation of the materials which went into that specific part of the shoe.
The leather symbol represents the hid, or skin of an animal which has been used in this portion of the shoe. The icon may refer to other types of leather such as suede and nubuck. If you see this symbol in this shoe, note that the product is genuine leather.
Additionally, the symbol to the right of the leather symbol that looks like a hide with a diamond in it is referred to as the "coated leather" symbol. "Coated" refers to an outer surface-layer product which grains the side of the leather to achieve a specific look.
The textile symbol represents the fabric which has been used to line your shoe. This symbol indicates that the material used in this portion of the shoe is man-made or of natural fibers. Many vegan or vegetarian shoe-lovers may search for this symbol in the products they buy.
Lastly, the bottom "other materials" symbol describes the outer sole of the shoe. This may be made up of wood, rubber or PVC.