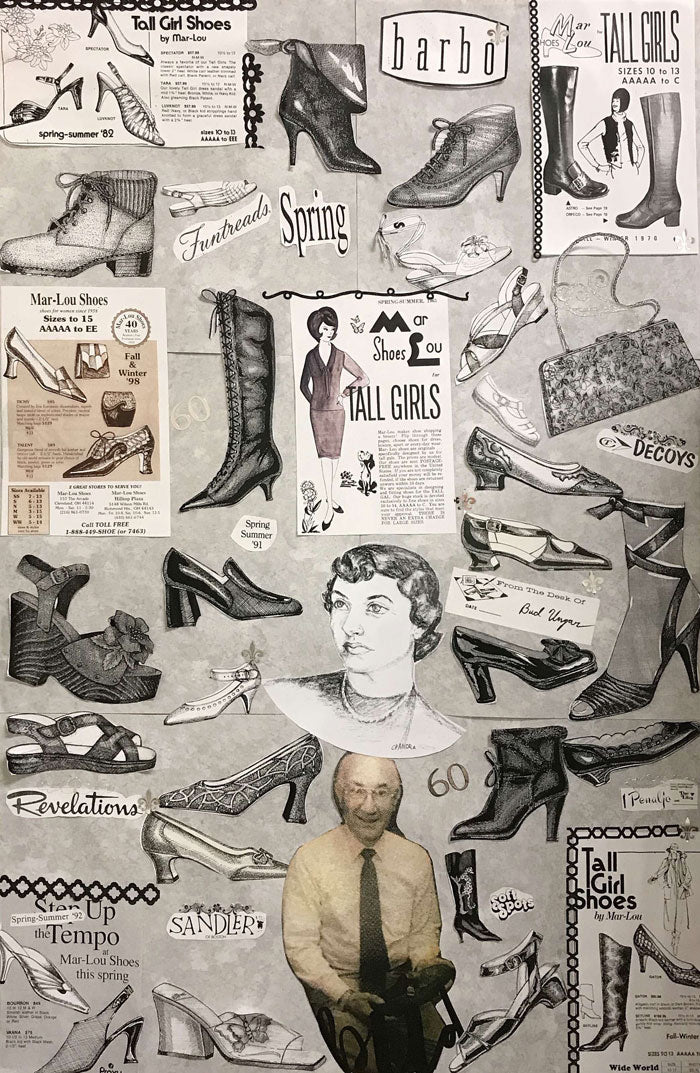 60 Years of Footwear Trends
Footwear has changed quite a bit since our founding 60 years ago, so this week we took a look back at our favorite fashion footwear through the years!
2018
60 years later and shoe trends just keep getting bigger and better! This summer we can expect to see a variety of shoes hit the streets from dad shoes to mules. From sleek sandals to closed toe pumps, we can't get enough of the fun styles that are coming back. We love the bright color and versatility the practical slide provides. Another trend we hope to see this summer? Kitten Heels. This sleek, elevated pump is great for day to night wear!
Lastly, keep an eye out for 80s-inspired colors which will rock the runway in the form of sandals and slides this summer.
2008
2008 gave us the return of color blocking, geometry, and the use of patent and suede leather. Chunky but clean was the goal in 2008 as seen in seductive wedges, ankle boots–especially open toed – and colored patchwork. Sexy T-strap heels made an appearance in dance clubs as well as animal print pumps in the workplace. Classic stiletto pumps were one of the favorite trends from 2008 because of their versatility. Day, night, office, dinner, drinks, date -we could depend on the classic pump for all occasions. And let's not forget about the infamous Ugg boot fad! You couldn't go anywhere without seeing the boots, no matter the weather, rain or shine, heat or snow. 
1998
In the 90's if a shoe seemed outrageously thick or looked like it could break down a door we wanted it on our feet. The most popular? Dr. Martins. Chunky, grunge shoes paired with overalls and your favorite hair scrunchy made women feel and look cool. Skechers also lit up our lives when they were featured in television shows such as "Ten Things I Hate About You," and promoted by pop sensations such as Britney Spears.
1988
The 1980s gave us many unforgettable trends equipt with shoulder pads, sequins, and neon. Sneakers exploded almost overnight in the 80s with the introduction of Nike Air Jordans, Converse Chuck Taylors, and Reebok Freestyles. Women wore the Reebok Hightop Aerobic style with miniskirts and stirrup pants or regular jeans. 80s movie favorites such as "Back to the Future" and "Ferris Bueller's Day Off" brought Converse Chuck Taylors off the basketball court and into fashion streetwear. Perhaps our favorite style of the 80's were Jelly shoes, aka jellies. These, colorful and often sparkly kicks, boomed after a buyer for New York's Bloomingdales brought them to the store.
1978
Ladies loved platform shoes and boots in the 70s. The Disco scene welcomed thick heels and tall soles, velvet slip-on, and embroidered boots were also key styles in the 1970s. And we can't reflect on 70's shoe fashion without reminiscing on men's platform heels. Lastly, the late 1970s brought with it a rush of western wear for both men and women. Inspired by the television show, Dallas, many Americans went as far as wearing full "western get-ups" including denim shirts and cowboy hats to complete the look.
1968
1968 was a year of changes: war, political activism, youth culture and the arts all brought new ideas into pop culture that questioned everyday life as we knew it. Geometrically precise pieces countered soft romantic styles as top designers launched ready-to-wear lines making fashion affordable. Instead of large, chunky heels, ladies leaned more towards very small square heels–often with a Mary Jane strap just like a doll's shoe. Women wanted a shoe that was easy to live life in. New materials such as vinyl and plastic made shoes inexpensive and more colorful than ever seen before. Perhaps the most important trend of the 60s was the start of boot fashion. Go Go Boots became an icon of the late 60s into the 70s.
1958
The fashion of the 1950s brought the world out of the war years and into the glitz and glam of larger dresses, richer accessories, taller hair and slightly more basic footwear. Single color flats, pumps, and loafers complimented the adornments of dresses at the time. Lucille Ball's tall, chunky, ankle strap shoes were also an iconic fad of the time.